Boardgames publishing and distribution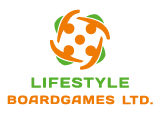 Video review
Gorynich. Trailer in English.
Gorynich review from 2021 Lifestyle & BGG live-stream
Gorynich
Year Published: 2021
Welcome to the world of Russian fairytales! Impersonate a huge fire-breathing dragon – Zmei Gorynich – that protects a beautiful princess in a high terem.
Gorynich is an enthralling cooperative game in which the players all together need to help Zmei Gorynich to protect the princess and the hidden riches from the invaders. Secretly choose an action card from your hand and send Gorynich to stop the knights before they reach the terem. However, it is not as easy as it seems - you can not discuss your actions!
Key selling point:
Dive into the colorful world of Russian folk tales!
Cooperative gameplay: try to predict other players' choices and act together as one well-knit team!
Modular double-sided playing boards that make each game unique.
Easy-to-grasp game mechanics.
Components:
1 central tile with a terem
4 double-sided playing boards with paths
1 first player token
10 knight tokens and 1 Zmei Gorynich token with plastic stands
7 sets of action cards
12 movement cards
9 double-sided maneuver tiles
2 special effects tokens
4 Speech tokens
1 30-second hourglass
Playing Time: 15-20 min
Age: from 8 years
Players: 3-7
Marketing materials