Boardgames publishing and distribution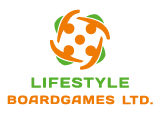 Contacts
Core company of our group is Lifestyle Boardgames Ltd.
Postal address: 127287 Moscow, Russia, UL. 2 KHUTORSKAYa, D. 38, KORP. A, STR. 1, 4th floor, office 403
Tel: +7 495 510 0539
E-mail: export@lifestyleltd.ru

For bloggers and cooperation offers: export-marketing@lifestyleltd.ru

You can find promo materials for our games on product pages on our Google Drive: https://clck.ru/UP5AS

Want to look through rules, watch a video about the game or maybe find some coloring pages and puzzles for you and your kids? Check out the product pages in our catalog!
Bank name: AO RAIFFEISENBANK
Bank address: BLDG.1 TROITSKAYA STR. 17 MOSCOW
SWIFT: RZBMRUMM
Country code: RU
Account USD: 40702840400000021797
Beneficiary: Lifestyle Boardgames Ltd
Address FILEVSKAYA 2-YA, D 7-K 6-EYT 1 POM 121096, MOSCOW, RF
OGRN: 1107746919147
Seller Tax ID (INN/KIO): 7713717876