Boardgames publishing and distribution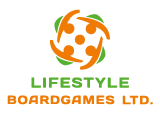 Cannes 2020
Date: 16.01.2020
Lifestyle Boardgames will take part in the biggest board game festival in France. The event will be held on February 21-23, 2020 in Cannes.
Our new games including Kauchuk and Storytailors will be showcased during the festival and there will be a special room for those who wish to Escape from the Asylum. Visitors of the show will also have a chance to participate in a fascinating board game themed quest and win prizes!
Come visit us, our booth number is 06.06!