Boardgames publishing and distribution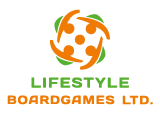 GenCon 2018!
Date: 25.07.2018
Dear colleagues and friends!
GenCon is one of the biggest event in gaming world which will take place on 2-5 August 2018 in Indianapolis, USA.
And we will be there to meet you! We`re bringing some exciting new games that you`ll be able to see before everyone else.
Please contact us at mail@lifestyle-boardgames.com to arrange a meeting.