Boardgames publishing and distribution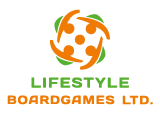 Speed Colors got one more award!
Date: 04.07.2018
We've understood long ago that Speed Colors is a sure hit among children's games. It is especially pleasant when a reputable jury agrees with you. Recently, the high-speed coloring game received yet another award – the Austrian Spiel Hits fur Kinder 2018 (Children's Game of the Year), which is awarded to three games in each category.
If you are not yet familiar with this original game of speed, memorizing, and coloring, then this is the right time to fix it!