Boardgames publishing and distribution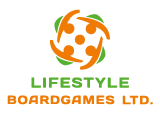 Speed Colors Booster Pack № 1
Year Published: 2018
Can't get enough of Speed Colors? Are you tempted to color everything around you? There's a fix for you! Introducing Speed Colors Booster Pack № 1, a Speed Colors expansion containing 12 never-before-seen image cards and 6 rainbow-colored markers for even more colorful entertainment.
Key selling point:
Spice up your Speed Colors games with 12 new image cards!
Includes 6 colored replacement markers (yellow, green, blue, red, orange, purple).
Not a stand-alone game! The base Speed Colors game is required to play.
Fully compatible with Speed Colors: shuffle the cards from the Booster Pack with the cards from the base game and you're ready to go (just follow the base rules)!
Components:
12 image cards
6 markers with sponges
Playing Time: 15-20 min
Age: from 5 years
Players: 2-5
Marketing materials