Boardgames publishing and distribution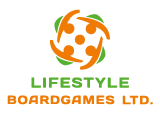 Narabi
Year Published: 2018
In this card game inspired by the mysterious Land of the Rising Sun you must work together to use the effects of the cards to your advantage. But there's always a catch, isn't there? Unfortunately, you cannot simply reveal the effects of the cards in front of you to the other players. You may only answer simple yes-no questions, so it will take a lot of teamwork, tactics, memory and precision for you to succeed.
Key selling point:
An elegant co-operative game: get to the shared goal in as few moves as possible!
Thanks to the clever use of card sleeves, the cards and their effects can be combined in countless different ways, so each game will be unique and pose new challenges for the players.
Components:
31 cards
15 card sleeves
1 token
Rules
Playing Time: 10-15 min
Age: from 8 years
Players: 3-5
Marketing materials
Rules