Boardgames publishing and distribution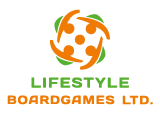 M.A.R.I.
Year Published: 2021
After a massive storm MARI (the Mobile Autonomous Robotic Intelligence unit) "wakes up" on a robot factory where she's been made. Lightning damaged the factory's Control Center, and only MARI can rise to the challenge of fixing it.
Complete 40 unique levels of increasing complexity in this solo adventure across a crazy robot factory. Play one command at a time to create a sequence that will help MARI reach the exit to the next hall. Think ahead, clear obstacles, master new commands and tasks all the while moving forward. With your guidance MARI will get to the top floor of the factory and fix the CC!
Key selling point:
A solo-adventure rather than a regular brain-teaser: has story and a compelling main character
Game tutorials instead of customary rules
Multiple levels of different complexity: from elementary to extra-hard
Play solo or co-operate with your family or friends
Components:
3 playing tokens
11 action tiles
20 double-sided level cards
4 hints and solutions cards
2 game rules cards
Playing Time: 5-30 min
Age: from 10 years
Players: 1-3
Marketing materials
Rules