Boardgames publishing and distribution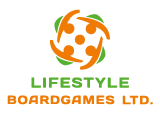 Hedgehog Roll & Friends
Year Published: 2021
Hedgehog throws a party and invites his forest friends: owls, squirrel, moose, bear and boar. The tables are already served and everything is ready for the guests. Oh, wait – the hedgehog has forgotten to decorate his famous cake! But how can the hedgehog leave the house unattended if the fox is making its way to steal the tasty treats? Help the hedgehog and his five forest friends to collect all the necessary goodies for the cake and do not let the fox ruin the party!
Key selling points:
Kinderspiel des Jahres Winner sequel.
Meet hedgehog's friends and try out new mechanics!
Base mode for beginners and advanced mode for experienced players.
Customize hedgehog's track– add more boards, mix base and advanced ones for unique experience.
Components:
1 fuzzy ball (hedgehog)
1 hedgehog face token
1 fox
1 hedgehog
7 double-sided boards (1 starting board with the hedgehog, 1 board with the house, 5 boards with paths)
1 board with the fox
18 velcro tokens (forest nuts, berries and wheat)
5 velcro forest friends tokens (owls, bear, moose, squirrel, boar)
2 punchboard owls
1 wooden bear-catapult
1 punchboard moose-slope
1 sliding boar
Playing Time: 20-20 min
Age: from 5 years
Players: 1-4