Boardgames publishing and distribution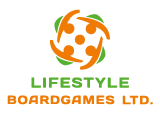 Fruit mix
Year Published: 2015
Do you find it hard to play memory games where you have to find two tiles or cards that match? Good news! Here you have to find two tiles that do not match to win the game.
Key selling point:
A very original and attractive packaging – with bright appearance and special elastic loop which makes it stand out in the shops and useful throughout the use of the game.
Innovative "anti-memory" game mechanics which makes the memory game more structured and challenging, thus suitable to adults as well. It will appeal both to children and SET-style game lovers.
High educational value – encourage structural memory development (mnemonics) and logical thinking.
Several rules variants including a variant for small children.
Components
48 tiles with 12 different pictures in 4 different shapes and 4 different colors
Game rules
Playing Time: 10-20 min
Age: from 6 years
Players: 1-6
Rules