Boardgames publishing and distribution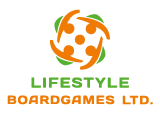 Video review
SPOILER ALERT! Escape from the Asylum - BGG GameNight LIVE
Escape from the Asylum Review by Tom Vasel
Escape from the Asylum board game Review
Escape from the Asylum first-person narrative
Entfliehen Sie dem Asyl-Brettspiel-Trailer in englischer Sprache
Escape From the Asylum - game overview at SPIEL 2019
Escape from the Asylum. Board game. Trailer in Spanish
Escape from the Asylum
Year Published: 2019
Escape from the Asylum is a thrilling escape room experience in the form of a cooperative board game. The game is divided into two parts, and each part is a collection of five stories. In each story, you assume a role of a character trying to escape the North Oaks asylum. To accomplish that, you will have to solve puzzles and make life-changing decisions. Reveal more and more of the backstory and watch the stories intertwine as you play.
Key selling point:
A thrilling escape room experience: move through the rooms of the asylum and discover its secrets!
Strong story element: uncover the plot as you play along.
Cooperative gameplay.
Components:
314 story cards
29 mystery envelopes
2 floor plans
6 hint and solution booklets
6 time sheets
game rules
2 component lists
Playing Time: 60-60 min
Age: from 12 years
Players: 1-10
Marketing materials