Boardgames publishing and distribution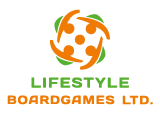 Costa Ruana
Year Published: 2014
The natives of the Costa Ruana archipelago need to do something... The local pirates have chosen their Islands as the most reliable place to fill their chests with Costa Ruana's most valuable resource: Sacred Pearls! The pirates have no idea that these Islands are inhabited by natives who are willing to do anything to protect them! Become a tribal chief, send your people to the Islands, obey the Shaman, outwit the other tribal chiefs and get your hands back on as many pearls as you can!
Costa Ruana is a dynamic game with an active interaction between players. Your aim is to score the most points by having treasures in your hut and natives in your reserve at the end of the fifth round. Cards let you move treasures, place natives on islands, bring them home, or move them between islands. But you never know which cards will be played out during the current round… unless you are a Shaman!
Scheming, double-guessing, and bluffing: Welcome to Costa Ruana!
Key selling point:
A dynamic game with an active interaction between players.
Original mechanics which allow rational planning, bluffing and double-guessing.
An attractive box and price.
Components
72 playing cards: Move treasures, Place natives, Return natives, Move natives.
2 Condition cards: High tide/Low tide and Day/Night.
10 Island cards (each card can accommodate up to 7 natives).
60 natives (10 meeples in each of 6 colors).
1 Shaman figurine.
6 huts (screens for players' treasures).
50 gems (treasures).
Playing Time: 20-60 min
Age: from 8 years
Players: 2-6
Marketing materials