Boardgames publishing and distribution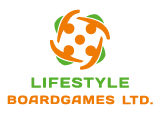 Storytailors is nominated for the GBL prize!
Date: 11.09.2020
Groupement des Boutiques Ludiques, an extensive European network of French-speaking shops, included Storytailors in the shortlist of nominees for the GBL prize in the Children's category.
Storytailors is one of our top-selling games loved by players for its bedtime stories and beautiful illustrations. It is a board game and a fairy tale book at the same time, full of lovely creatures and fascinating stories.
We are looking forward to award-giving at the Vichy Games Festival on September 27.