Boardgames publishing and distribution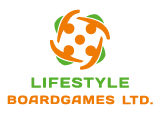 Storytailors are nominated for Graf Ludo Spielgrafik des Jahres!
Date: 13.09.2021
Wе are pleased to announce that our game Storytailors has made it onto the nomination list for the "Count Ludo". Since 2009, this jury prize has focused on illustrators and their artistic and creative work. The renowned award will be presented on 1 October 2021 at the Leipzig fair Modell-Hobby-Spiel. We keep our fingers crossed for illustrators Irina Pechenkina and Eugene Smolenceva!
Storytailors and many more our games are available in our catalog.