Boardgames publishing and distribution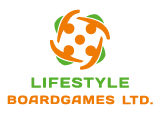 Second 2021 live-stream with BoardGameGeek!
Date: 26.07.2021

On the 21st of July Lifestyle Boardgames together with our partners and friends BoardGameGeek organized the second 2021 live-stream.
Many new games were presented, including new Detecteam series and a sci-fi strategy Time Capsules. We also announced new games in Unfold series and showed new versions of Speed Colors TEAM and Animeter.
We are very thankful to BoardGameGeek and GeekMedia teams for their immense and irreplaceable help with making this event possible!
New games are available in our catalog.