Boardgames publishing and distribution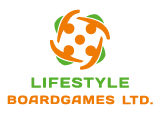 Something about Speed Colors
Date: 31.05.2018
On May 14 a special jury announced this year's nominees for the most prestigious award on the gaming scene, Spiel des Jahres. The jury also released a recommendation list containing 5 children's games selected among hundreds of other games and we're happy to share with you that Speed Colors is on that list!
Even though Speed Colors hasn't made it to top three, it is still a big achievement and we are glad to be a part of something as monumental as this.
Speed Colors is a fun coloring game for children ages 5 and up that develops memory and reaction. Add some color to your life with Speed Colors!