Boardgames publishing and distribution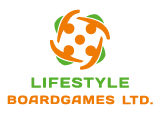 Tubyrinth
Year Published: 2016
Whether you're building a pipeline in Ancient Egypt or in the far-off future, it's always fun! The aim of this game is to connect the starting and the finishing point by laying down a complex network of pipes. Watch out for ancient artifacts and other obstacles — and don't lose your way! You'll be astonished by this intricate maze!
Key selling point:
Popular video game concept adapted into a board game.
Easy-to-grasp game mechanics, nice points system which rewards even non-winning players.
Great value for its money: 84 playing fields (42 double-sided boards), each can be solved in 3 different ways - in total 240 solutions to find!
Components:
42 double-sided tubyrinth boards.
42 pipe tiles (6 sets of 7 pipe tiles).
6 water meters.
Game rules.
Playing Time: 20-30 min
Age: from 8 years
Players: 1-6
Marketing materials
Rules