Boardgames publishing and distribution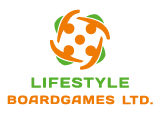 Tempo!
Year Published: 2020
You are challenged to find a witty answer to a question while trying to satisfy various conditions.
Sure, it`s easy enough to come up with an answer to a question such as "How do you survive on a desert island?". But what if you have only 1 minute and can use three words only, as many "O's" as possible and at least one name of a food?

There are 2 graphics options for the game. You may choose the one you prefer.
Key selling point:
Simple, fun, yet clever party game.
Questions from various fields will keep you on your toes!
Very small and portable.
Components:
28 double-sided condition cards
25 double-sided question cards
2 Reference cards
1 hourglass (only in small box)
Playing Time: 15-20 min
Age: from 12 years
Players: 2-10
Marketing materials
Rules