Boardgames publishing and distribution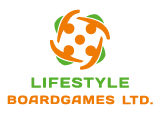 Video review
Storytailors — game preview at Comic Con@Home 2020
Storytailors. Board game. Promo video English
Storytailors - In Focus (BoardGameGeek)
Storytailors. Board game Review in English.
Storytailors. Board game review in French with English subtitles.
Storytailors (FABULIA). Board game review in French.
Storytailors
Year Published: 2019
"Once upon a time, when adults were small children and loved adventure stories, Wilfried and Marie found a magic story book. The kids could visit its different stories and soon befriended its funny animal characters…"
The characters who can take on any role – a brave knight or a sad musician, a mischievous witch or a clumsy ninja… A well-loved story will be forever entertaining if the characters constantly changed and yesterday's evil guard could become today's dandy steersman. Because it's up to you to decide who will play every role in your story!
Use your wit and imagination to tailor the stories to your taste and fit them out with the most suitable characters!
Key selling point:
A unique game board in the form of a book
A reinvention of bedtime stories and bonding time with your kids
An infinitely replayable game with stories that can surprise you even after multiple readings.
The first edition in France sold out in 2 weeks.
Components:
Book with transparent pockets
55 double-sided cards with tales
110 character cards
1 voting and counting board
6 player tokens of different colors
36 voting chips (6 sets with 6 different symbols)
Playing Time: 15-20 min
Age: from 5 years
Players: 2-6
Awards
Winner Children's Game of the Year by Groupement des Boutiques Ludiques

— 2020

Malacitano Children's Game Award Finalist (Spain)

— 2020

Tric Trac Best Children's Game Nominee

— 2020

Kinderspiel des Jahres Nominee

— 2021

Spiele-Hit für Kinder

— 2021

Graf Ludo Spielgrafik des Jahre Winner

— 2021

Imagination Gaming Family and Education Game Awards' Best Literacy Game 2021 Shortlisted

— 2021

Golden Bear national award, 2nd place in the nomination "Best toys and games"

— 2021

Gra Roku Children's Game of the Year Nominee

— 2021
Marketing materials