Boardgames publishing and distribution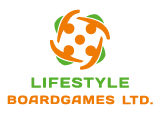 Speed Colors
Year Published: 2017
Take a look at the picture. Now turn it over and color in the black-and-white version! This bright-hued color-by memory game will be a hit with both children and adults. Try to keep up the pace while each round gets more challenging than the previous... The faster and the more accurate you are – the more chances you have at winning the round and the game!
Key selling point:
The concept of coloring books turned into an original fast-paced memory game.
A versatile game suitable for all ages. Can be adapted for younger players (focus either on the precision or on the memory aspect of the game).
A child can beat their parent but both will certainly have fun!
An unusual, eye-catching packaging.
Components:
55 imagine cards
5 scoring cards
6 markers with sponges
1 pouch
Game rules.
Playing Time: 15-20 min
Age: from 5 years
Players: 2-5
Awards
Cross-Curriculum Silver Award (Imagination Gaming Family & Educational Game Awards)

— 2018

Family Silver Award (Imagination Gaming Family & Educational Game Awards)

— 2018

Spiel Hits fur Kinder

— 2018

Kinderspiel des Jahres (recommendation list)

— 2018
Marketing materials