Boardgames publishing and distribution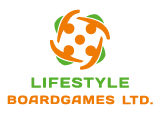 Nitro
Year Published: 2017
In the post-apocalyptic wasteland every man rides for himself! Nitro is a crazy dieselpunk mash-up of kickass cars, awesome weapons and unexpected events. Sabotage is your best friend: cross your enemies, double-cross them — triple-cross them, if you like. Anything goes as long as it makes you win the race!
Key selling point:
A genuine dieselpunk atmosphere that fans of such franchises as Mad Max will particularly enjoy.
A crazy mix of races, events, cunning, strategy and chance: perfect for Munchkin-style game lovers.
Filled with exciting twists and turns: planning is important but unexpected events can always change the outcome of the game.
A fun and dynamic gameplay that keeps you on your toes!
Unique humorous illustrations.
Components:
10 double-sided game boards
105 Wasteland cards
55 Nitro cards
6 player's markers
1 die
Game rules.
Playing Time: 30-50 min
Age: from 12 years
Players: 2-6
Rules