Boardgames publishing and distribution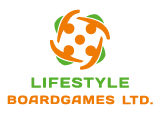 Make-a-snake
Year Published: 2021
The snakes need the sun to hunt and play. As they crawl from their hiding spaces early in the morning, they try to coil themselves so that their tail and their head are as close as possible. This way they are all snuggly and warm until they can soak up the sunshine.
Roll the die and add new parts to your snake! Bend it, coil it, extend it! At the end of the game, measure the distance between the snake's head and its tail. The player with the shortest distance takes the prize!
Key selling points:
Unique tactile components.

Multiple game modes.
Low age threshold.
Additional stickers.
Components:
1 wooden die with 2 colors on each side
1 measuring ribbon
4 sets of snake tiles in 4 different colors
4 clips (+4 extra clips)
3 sticker sheets to customize your snake
4 dragon body tiles with 4 connectors
8 round tokens
Playing Time: 15-15 min
Age: from 3 years
Players: 2-4
Marketing materials
Rules