Boardgames publishing and distribution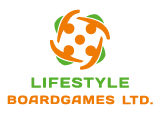 Macroscope
Year Published: 2016
You've never seen a device like this! Peek through this curious contraption's round holes at the image hidden inside. Can you tell a rhino from a pizza just from a few swirling lines? Take a good look at the partially revealed image, guess what it could be and score points if you are right! The fewer holes you need to open in order to recognize the image, the more points you get. The most perceptive player wins the game!
Key selling point:
Innovative, but very easy to grasp game mechanics and simple rules.
Very addictive gameplay for both children and adults.
Educational value: develops visual recognition and reconstruction skills.
Great play-value: 400 unique pictures in the box (one game needs only 10 pictures!).
Components:
The Macroscope
200 double-sided cards with images.
12 tokens.
1 round counter.
1 marker.
2 dice.
140 victory point crystals.
Game rules.
Playing Time: 30-30 min
Age: from 6 years
Players: 2-6
Awards
Family Gold Award (Imagination Gaming Family & Educational Game Awards)

— 2017
Marketing materials