Boardgames publishing and distribution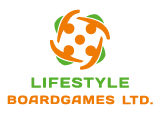 Lost and Found
Year Published: 2016
Lost something? No worries! In this game you have to be quick and careful: memorize the images, flip the card and name the missing item before your opponent does it. Thanks to the various difficulty levels, parents and kids will both find Lost'n'Found engaging.
Key selling point:
Lightweight mix of very successful existing concepts (visual memory / speed and observation) at a very competitive price: feels a bit like Schau Mal or Dobble, but still different and costs less.
Portable, playable with 2-6 players, aged 5+.
Components
54 cards (9 cards of each color/value: red, yellow, green, blue, purple, black)
Game rules
Playing Time: 10-20 min
Age: from 6 years
Players: 2-6
Awards
Family Bronze Award (Imagination Gaming Family & Educational Game Awards)

— 2018
Marketing materials