Boardgames publishing and distribution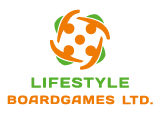 Loser
Year Published: 2018
Think twice before you mess with magic or you might spend the rest of your life as a frog! In this mean and clever card game there are no winners: you are either safe or the loser. In turn, each player plays a card either face up or face down. Try to keep track of whether you've got the card with the highest value and vote accordingly (thumbs up or thumbs down) at the end of each round. Your opponents will try their best to throw you off and ruin your plans so watch out and don't lose your cool: if you lose twice, no potion will save you!
Key selling point:
From renowned author Bruno Cathala.
A wicked game of bluff, tactics and cunning that keeps you on your toes!
Every move counts so watch carefully the choices your opponents make.
Unexpected twists guaranteed! Includes 23 special cards with crazy effects that may tip the balance at any point of the game.
Components:
19 playing cards (with values from 1 to 19)
2 double-sided action cards (with 4 different actions)
23 special cards
6 "characters" (sets of 2 cards)
Game rules
Playing Time: 15-20 min
Age: from 8 years
Players: 3-6
Marketing materials
Rules