Boardgames publishing and distribution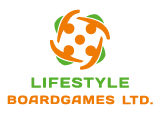 Lexit
Year Published: 2016
Do YOU think you have a way with words? Then this is YOUR chance to show off your vocabulary!
Lexit is a word game with a twist! Don't bother looking for words on the cards — you won't find any! Instead, turn the top card of the deck over and take a close look at the picture: everything that you see can be put into words. Easy, right? Now it's time to change them up! Write these words down and turn them into other words using one, two or all three modifications available in this round. During the game, you'll come across four modifications: add one letter, remove one letter, replace one letter and shuffle the letters. And remember: the longer the words are, the more points you get!
Key selling point:
Expands the vocabulary, develops verbal skills.
Can be used as a learning tool.
Language-independent: play Lexit in multiple languages!
Easy-to-grasp rules.
Components:
Playing Time: 30-40 min
Age: from 10 years
Players: 2-6
Awards
Literacy Gold Award (Imagination Gaming Family & Educational Game Awards)

— 2018

Family Bronze Award (Imagination Gaming Family & Educational Game Awards)

— 2018
Rules