Distribution, production and wholesale Boardgames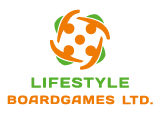 Koldun
Year Published: 2019
In a dark forests of Eastern Europe the Slavic tribes worship the old gods.
These gods can be benevolent and kind, but it takes a lot of effort to sway them to your side.
You and your rival magi will try to foresee the future of your people. Will there be a glorious war? Will peace be bestowed upon your tribe? Or will a plague break about?
The craft of the magi is the one full of doubleguessing: your rivals actions should be taken into account.
Make a correct prediction and plenty of goods will be yours. Get enough goods to win the gods to your side.
Fail and you will be left at a mercy of demons that can even defeat the most powerful gods...
Key selling point:
A unique theme and flavour
A strategy game which only takes 30 minutes to play and is very portable
Unique mechanics which involve double-guessing, careful planning and tactical prowess.
Components:
12 Slavic Gods cards
15 prediction cards (3 of each colour)
35 event cards
1 first player token
50 energy tokens
40 demon tokens
Playing Time: 30-45 min
Age: from 12 years
Players: 3-5