Boardgames publishing and distribution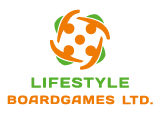 Ice Dice
Year Published: 2017
Did you really think that there is only one Santa? He would've never managed to get all this work done all alone! Many tiny Santas worked their warm knitted socks off trying to make enough Christmas baubles just in time for the Holidays. But there's no time for a break! In the summer they are busy cooling off the ice-cream for the children... Join these little fellows and have some fun while practicing the basic arithmetic operations.
Key selling point:
Basic math turned into a game! Practice addition, subtraction, multiplication and division while playing.
A bright and colorful design that will attract children of all ages and adults.
Double-sided game boards: choose between the «summer» and the «winter» side — or play the crazy «mixed» game mode!
Components:
1 big double-sided game board
1 medium double-sided board
6 player's boards
3 dice
1 hourglass
36 numbered tokens (6 tokens of each of 6 different colors)
Game rules.
Playing Time: 20-30 min
Age: from 6 years
Players: 2-6
Awards
Maths Gold Award (Imagination Gaming Family & Educational Game Awards)

— 2018

Family Gold Award (Imagination Gaming Family & Educational Game Awards)

— 2018
Rules