Boardgames publishing and distribution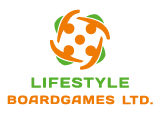 Gnome's Lunch
Year Published: 2017
These gnomes have an unusually big appetite for their size! Connect as many gnome tiles to the pizza tiles as you can to collect the most points. Beware of the dragons — they scare away the gnomes... unless the gnomes team up against the dragons. Surrounded, the dragons will have no other option but to flee!
Key selling point:
1-minute rules!
A minimalistic game with a very rich gameplay: tactics, bluff, player interaction and lots of fun!
A quirky theme with a bright and cheerful design.
Components:
57 tiles (14 of each color + 1 royal pizza tile)
Game rules
Playing Time: 15-20 min
Age: from 8 years
Players: 2-4