Boardgames publishing and distribution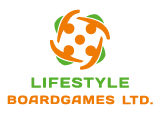 Giraffometer
Year Published: 2015
Have you ever tried to compare the speed of a raindrop with the weight of the world's largest pumpkin or the number of rooms in Buckingham Palace?
In this fast-paced trivia game you don't need to know the right answer! In the world of amazing, astonishing and just plain funny facts that awaits you, just try to correctly guess which facts have the highest and lowest numbers! And may your Giraffometer never fail you!
Key selling point:
Trivia game where you don't need to know exact answers with its own unique gameplay.
Huge amount of amusing and funny facts (300 cards!) with a lot of surprises during the game ("Wow!" factor).
Has both great entertaining and educational value – encourage logical reasoning and teaches interesting facts.
Components
300 double-sided fact cards (front – no number, back – with number)
1 numbered board for cards
48 voting tokens (8 sets of tokens numbered from 1 to 6)
Approximately 60 crystals (victory points)
Game rules with game board (-/+) on the back
Playing Time: 30-40 min
Age: from 10 years
Players: 2-8
Marketing materials