Boardgames publishing and distribution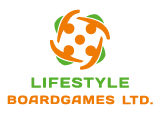 Eureka!
Year Published: 2016
No POINT in geometry, you say? You just have to look at it from a different ANGLE! Eureka is a unique board game that puts a different perspective on geometry — learning has never been so much fun! Geometric figures? Go figure! In Eureka, race to find shapes that fit the description on the card in the center of the table. But watch out! Your opponents can steal cards from under your nose! Now you're all set! So think outside the box... or outside the CUBE, if you prefer! Your CIRCLE of friends is sure to love this game!
Key selling point:
Very strong educational aspect: teaches main geometry concepts and their application in a fun and easy way.
Geometry turned into a fun game with an innovative game idea! Fast reaction game where you have to find visual matches to geometry questions — feels not like an educational tool, but as an addictive filler game.
Targets both parents of middle schoolers and casual players (especially those with a technical mindset).
Components:
80 Shape Cards: 45 Simple Shapes (green cards) and 35 Complex Shapes (red cards).
40 Task Cards (double-sided).
Game rules.
Playing Time: 10-15 min
Age: from 8 years
Players: 2-4
Rules