Boardgames publishing and distribution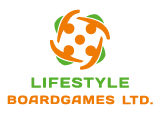 Enchanted Paths
Year Published: 2017
In a far away land magical beings roam the Enchanted Paths — a fire-breathing dragon and a pure unicorn, a wise wizard and a brave knight, a cackling witch and a beautiful princess... Help the fairytale characters find their way to each other: fold the game board to connect creatures and items. In order to win, you have to be the first to complete the task, so hurry up!
Key selling point:
A unique construction: an everfolding board (you can keep folding it and it will never end!).
Develops agility, quick reflexes and visual recognition skills.
Charming artwork featuring characters from beloved fairytales.
Components:
4 enchanted game boards (each game board can be folded in 24 unique ways)
90 challenge cards (30 easy challenges and 60 difficult challenges)
Game rules
Playing Time: 20-25 min
Age: from 8 years
Players: 1-4
Awards
Cross-Curriculum Silver Award (Imagination Gaming Family & Educational Game Awards)

— 2018

Problem Solving Silver Award (Imagination Gaming Family & Educational Game Awards)

— 2018
Marketing materials