Boardgames publishing and distribution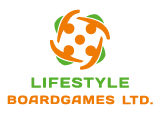 Dawn Under
Year Published: 2017
The crack of dawn is the busiest hour at the local cemetery: every vampire in town is scurrying about looking for a nice empty grave to hide in. Dawn Under is a frighteningly fun and deadly delightful memory game for the whole family! Be the first to find a resting place for all your vampires but make sure to stay away from nasty rats and smelly garlic!
Key selling point:
Requires planning and attention, develops visual memory.
A great game for Halloween mood at any time of the year.
Popular characters and theme.
Cool design suitable for both kids and adults.
Components:
1 game board with 60 empty graves
13 stakes
144 tiles (60 blank grave lids, 60 vampires, 18 garlic bundles, 6 grave lids with a rat)
Playing Time: 20-30 min
Age: from 6 years
Players: 2-6
Awards
Spiel des Jahres Nominee

— 2004

Kinderspielexperten "5-to-9-year-olds" Second Place

— 2004

Deutscher Spiele Preis Best Children's Game Winner

— 2004
Marketing materials