Boardgames publishing and distribution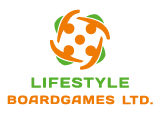 Video review
Animeter. Trailer in English.
Animeter - In Focus (BoardGameGeek)
Animeter B2B presentation
Animeter review from 2021 Lifestyle & BGG live-stream
Animeter
Year Published: 2021
Hares, hedgehogs and mice are in a hurry to store some apples for the long winter ahead. They climb up into animal towers to reach the heaviest branches. But they must beware of the predators lurking in the foliage! Test your eye-measuring skills and take advantage of each animal's abilities to secure the biggest harvest!
Key selling point:
Develops eye-measuring and communicative skills.
Teaches to work effectively in a team.
Includes competitive and cooperative versions for both younger and more advanced players.
Contains unique components.
Components:
3 double-sided tree-meters
72 animal cards
15 red and 35 yellow apple crystals
game rules
Playing Time: 15-20 min
Age: from 5 years
Players: 2-5
Marketing materials